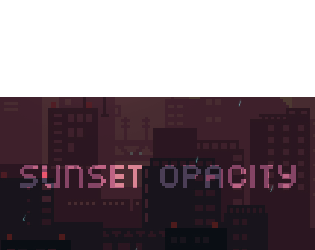 Sunset Opacity
SUNSET OPACITY v0.1 (Test Edition)
Update 20/06/19:
- Now available Challenge Mode with Bestscore!
- Fixed some bugs in story mode.
- Thank you all for your feedback! <3

An Immersive physics game challenge you.
9 different unique levels will take you to an atmospheric challenge.
Vincenzo Striano production, 2019 all right reserved.
HOW TO PLAY?
Input: Mouse or Touch
Mouse Left or Touch Screen: Movement
Hold Mouse Left or Touch Screen: Stop the ball (not for every levels)
Remember: The pivot of your movement is the first touch
Remember pt2: Surrender is not a good choise.

Test Edition, please leave your feedback!
Official Website: legacystudio.net

COMING SOON / Next Step:
* Story Mode Lyrics
* 5+ New unique Level
* New soundtracks for every level
* Leaderboard with bestscore nickname
* Global timer for challenge your friends to finish the game
* Form for your Level idea for the next update
* 2 new type of difficulties unlockable
* 5 language for story-mode (ita, eng, deu, spa, fra)
Your feedback is important for this project, please leave a comment or contact me for any idea or bug report.
Facebook: Official FanPage FB
Email: legacystdo@gmail.com
Instagram & Twitter: @legacydevstudio
The best players can be an official tester of this project, leave your feedback if you complete the game, and let me know if you to want help this project with new levels testing.

Vincenzo Striano production, 2019 all right reserved.
Thank you for your support,
Vincenzo.

I want to tell you something, but you must not give up.
Please, Have fun! <3